Skip to content

---
Category:
Freelance
A couple more sites are online which I helped create. I can't take credit for any of the designs on either of these sites, but I did some of the back-end coding for them. I wrote the HTML and CSS for www.sinceritybathandbody.com, and I created the Flash menu for www.loopdeloop.net.
The last couple of weeks, I have been neglectful of my posts. I have been doing a lot of thinking and come up with a few ideas. I have also been working on a new set of house plans in Microsoft Visio which I have been turning into a 3d model using Google SketchUp. Here is a screenshot of the in-progress model: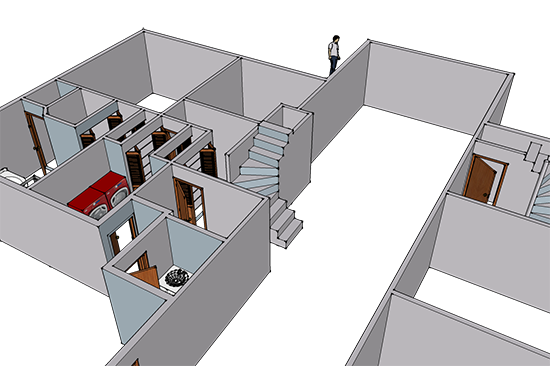 Three Web sites for some of the freelance work I've been doing over the last couple of months are now online. I'm not sure how long they've been online, but I just became aware that they are.
One of the sites I worked on was www.poojakumar.com. It's been modified a little bit since I did the work, but I wrote the initial HTML and CSS for the site.
I also did some work on www.workingbug.com. Each item in the Web site's menu has a mouse rollover state, and I wrote the JavaScript to create the rollover states.
Another site I worked on was www.davidaarnold.com. I wrote the JavaScript to change the movie clips on the Stand-Up, Vlogs, and Television Appearances pages.
Been working on Web sites all afternoon. I recently reconnected with a friend I knew in Centurium Consulting Group, and she's given me a couple of freelance jobs. She runs a company designing and hosting Web sites, and her usual HTML and CSS guy is busy, so she's contracted with me to do six Web sites for her. She does all the design and I am doing the code. I also built a Flash navigation bar for her last week, and I'm working on some JavaScript pop-ups for one of the sites. I'll try to post some links when the sites are actually live.