Skip to content

---
"Treasure Tomb" – Evolution of a Game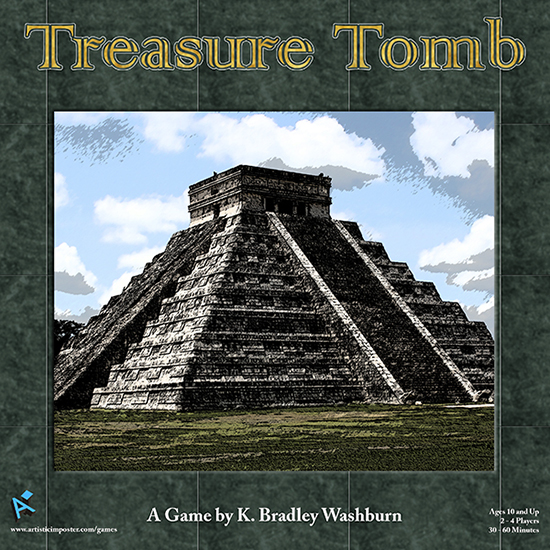 Over the past couple of months, I have been working on a board game, Treasure Tomb. Several design and rule changes later, Treasure Tomb is ready for final publishing and went on sale today at The Game Crafter.
Treasure Tomb is a game of strategic tile-laying, dice-rolling, and card collecting. Players lay tiles to construct pathways through the mummy's tomb, drawing treasure cards each time they pass a treasure token. When a player lands on a sarcophagus token, the mummy enters the tomb, blocking treasure card icons. Treasure cards are either event cards or gold, and the first person to collect 50 gold wins the game.
Treasure Tomb actually started off many years ago as a much, much different game named Ziggurat. My first prototype was an 8.5″ x 8.5″ game board created in Microsoft Paint with Legos for game pieces. I was at the height of my Mesoamerican obsession phase, so the original idea was a Mesoamerican trivia game with the difficulty level of questions increasing as the players travel deeper into the pyramid. Each player had four stackable pieces, which moved in separate "lanes" from the other players. The goal of the game was to be the first player to get all four of your pieces stacked on top of each other on the finish space in the center of the pyramid.
Enter European board games and The Settlers of Catan.
In the early 2000s, I was introduced to The Settlers of Catan, which opened up a whole new world of board gaming. My borderline obsession with Catan soon led me to discover other European-style games like Ticket to Ride, Zooloretto, and Carcassonne. When I discovered The Game Crafter a few months ago while trying to make custom Catan tiles, the idea of Ziggurat resurfaced.
While I plan to go back and revisit at least some of the original game mechanics from Ziggurat some day, I decided to give the game a complete makeover. I wanted to create a tile-laying game similar to Catan, but with a build-as-you-go mechanic like Carcassonne. By the time I was finished, the end product had evolved into a cross between the original idea and the new idea, with some of the newer mechanics discarded. Those discarded mechanics soon evolved into an unrelated micro-game, my recently-released Wolf in the Fold.
Check out Treasure Tomb at The Game Crafter and get your copy today!