Skip to content

---
New "Wolf in the Fold" Microgame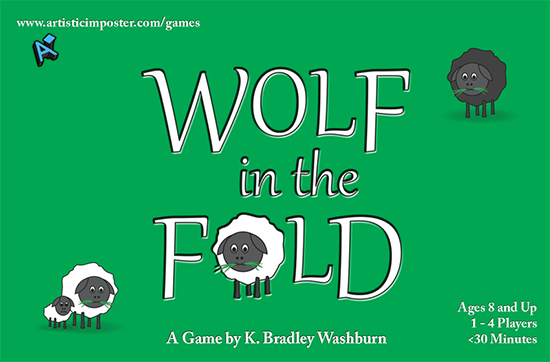 In March, I began working on a couple of concepts for games which I have had floating around in my head, and I am pleased to announce the first finished game went on sale today! Created from unused concepts from my upcoming Treasure Tomb board game, Wolf in the Fold is more of a microgame than a full game. The rules are simple and the playing time is short. Most test games have clocked in at around 15 minutes, although games could be longer if other players take a long time to consider their tile placements.
The game was originally inspired by the tile-laying game Carcassonne, in that I wanted to create a tile-laying game where the players build something. While working through my ideas, I ending up with Wolf in the Fold, a game of tile placement and player cooperation. Players build fences and hire shepherds to protect sheep from the wolves. Points are gained when sheep are fully-enclosed within fence tiles. Also included are rules for competitive play, where players compete to see who can enclose more sheep inside fences.
Although designated as for ages 8 and up, the rules are simple enough for younger players to understand. Care should be taken around younger children who may choke on the game tiles.