Skip to content

---
Tag:
booth
Last month, I dove into the world of in-person sales by running a booth at the Steel Days celebration in American Fork, Utah. I sold a few photographic prints and learned a lot about being a vendor at shows and fairs. I have signed up for two more shows in August, and one in September.
My first booth will be Saturday, August 14th, at the Alpine Days Carnival & Boutique. The boutique is at Creekside Park, 100 South and 600 East, in Alpine, Utah. Vendor booths will be open from 11:00 am to 8:30 pm.
On Saturday, August 28th, I will have a booth at the Americana Arts & Music Festival. The festival will be at Robinson Park, 100 East Main, in American Fork, Utah. It will be open from 10:00 am to 9:00 pm.
At the end of September, I will be involved in the Holy Cow Fall Boutique. The Holy Cow boutique is different that the others in that I will not be there in person. Vendors sign up for a booth space and all purchases are made at a central checkout. If you wish to meet me or talk to me about my work, you will want to attend one of my August events.
The Holy Cow Fall Boutique runs Tuesday through Saturday, September 21st through 25th at the Lindon Community Center, 25 North Main, in Lindon, Utah. The boutique is open from 9:00 am to 9:00 pm, Tuesday through Friday, and 9:00 am to 7:00 pm, Saturday.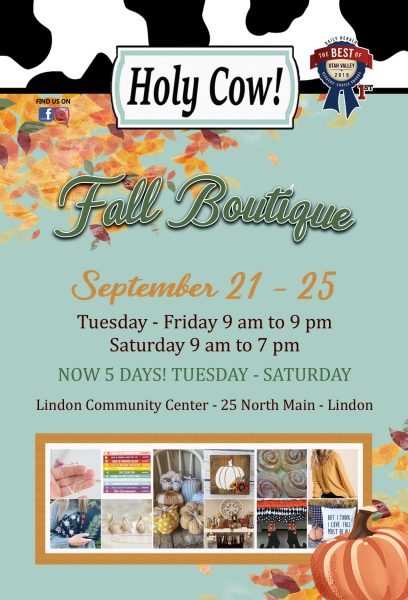 Come visit my booth at one of these events!