Skip to content

---
Year:
2021
Last month, I dove into the world of in-person sales by running a booth at the Steel Days celebration in American Fork, Utah. I sold a few photographic prints and learned a lot about being a vendor at shows and fairs. I have signed up for two more shows in August, and one in September.
My first booth will be Saturday, August 14th, at the Alpine Days Carnival & Boutique. The boutique is at Creekside Park, 100 South and 600 East, in Alpine, Utah. Vendor booths will be open from 11:00 am to 8:30 pm.
On Saturday, August 28th, I will have a booth at the Americana Arts & Music Festival. The festival will be at Robinson Park, 100 East Main, in American Fork, Utah. It will be open from 10:00 am to 9:00 pm.
At the end of September, I will be involved in the Holy Cow Fall Boutique. The Holy Cow boutique is different that the others in that I will not be there in person. Vendors sign up for a booth space and all purchases are made at a central checkout. If you wish to meet me or talk to me about my work, you will want to attend one of my August events.
The Holy Cow Fall Boutique runs Tuesday through Saturday, September 21st through 25th at the Lindon Community Center, 25 North Main, in Lindon, Utah. The boutique is open from 9:00 am to 9:00 pm, Tuesday through Friday, and 9:00 am to 7:00 pm, Saturday.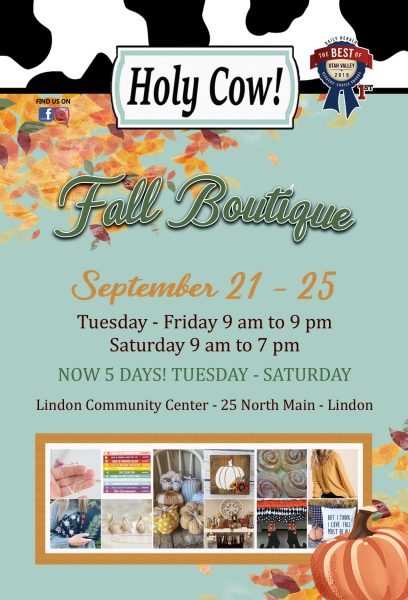 Come visit my booth at one of these events!
About a month ago, I jumped on the NFT bandwagon and launched my own NFT collection on the digital marketplace OpenSea. For the moment, the NFTs listed for sale are older pieces of my digital artwork, many of which have never been published or displayed outside of my account on DeviantArt. A few have not even been seen there.
Unless you've been living under a rock or avoiding the Internet, you've probably heard of NFTs by now. NFTs, or non-fungible tokens, are unique digital identifiers, essentially secure metadata, which prove ownership of the digital 'original' of a piece or art or other object.
Owning an NFT is like owning an original painting or sculpture. The buyer of the painting may own the original canvas, but the painter retains full copyright of the painting and has the right to make and sell prints of his or her painting. In the same way, buyers of NFTs own the 'original' artwork, but the creator of the artwork maintains ownership of the copyright to his or her art.
I plan to continue adding NFTs of my art and photography to my NFT collection on OpenSea, so check in often to purchase your favorite pieces.
I have little formal training in painting, so most of what I know I learned from articles on the Internet. I have been reading about imprimatura in painting and I wanted to try it out.
Imprimatura is an underpainting process where the painter creates a monochromatic stain of color on the canvas and uses the color to establish values of dark and light. Usually an earth tone is used, such as raw sienna or burnt umber. When painting, the artist is careful to not completely cover the imprimatura with paint so that some of the earth color shows through in the final painting.
Once I had decided on my subject, I began my painting by creating a basic sketch on my canvas board with a pencil. I then traced my sketch with ink so that the lines would show through when I put down my imprimatura layer.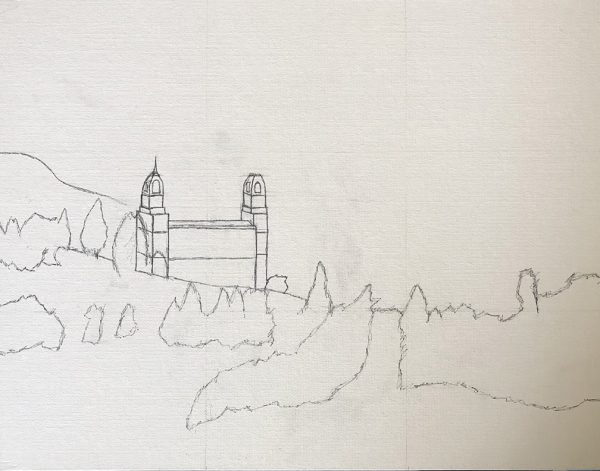 I created my imprimatura layer by mixing water and acrylic paint at close to a 1:1 ratio. I then used a foam brush from the hardware store to spread the thinned paint onto my canvas board. In retrospect, a foam brush was not the best tool for the job because it caused streaks in the paint. After brushing on my imprimatura layer, I used a paper towel to wipe the sky out so that the paint would be lighter in that area.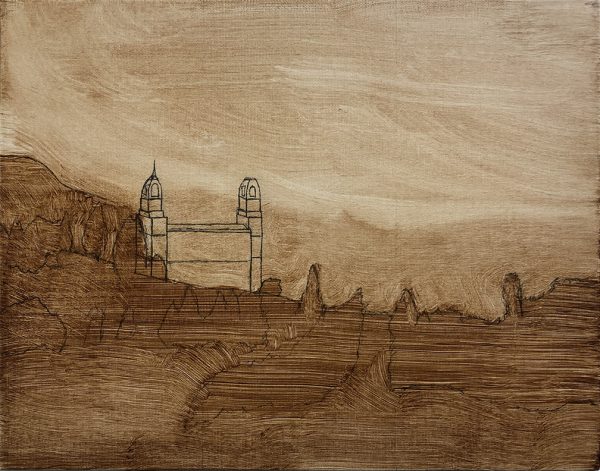 Once the imprimatura layer was dry, I began by painting the sky and the temple. I found another use for my foam brush while painting the sky. I found that if I put tiny drops of paint on the sky, I could use the foam brush to create cloud streaks. There are probably other ways to do this, but I really liked the way the streaks looked when using the foam brush.
When the sky and temple dried, I painted in a brown foreground and added dark green trees.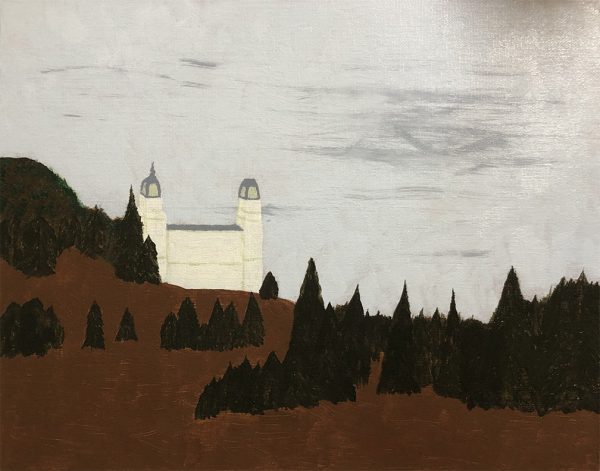 To finish off the painting, I lightly painted over the trees with a lighter green color to give some depth. I also lightly painted over the ground with a light green color, allowing some fo the brown to continue to show through.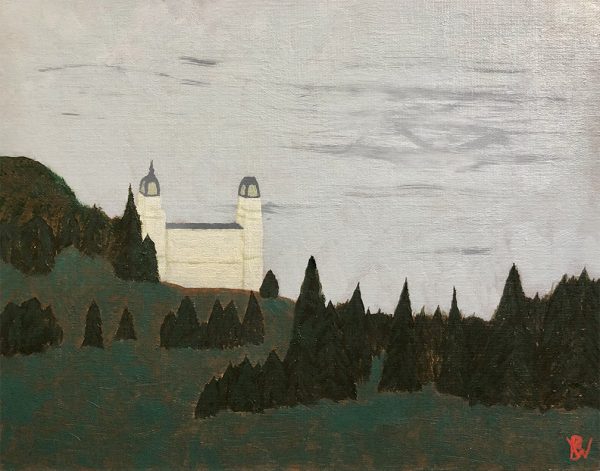 And that's how I used imprimatura to create this painting. Did I use the technique correctly? I have no idea, but experimentation and creativity is what art is really about anyway.