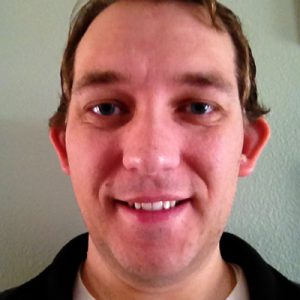 My name is Brad Washburn. I'm a web designer, graphic artist, photographer, game designer, and author, with a passion for creation. Artistic Imposter Design is both my web portfolio and a vehicle to attract freelance design work. Only my favorite and best pieces of art appear on Artistic Imposter Design; everything else worth mentioning can be found on my Creative Blog, in my Online Store, or through my DeviantArt profile.
Artistic Imposter Design began with SpaceCom Central, a Web site I designed and built around 1996. SpaceCom Central was originally just my personal Web site, a repository for all things me. Designed in Microsoft Paint and hosted on Geocities free Web site services, it served as an online place where I stored all of my papers and poems that I was writing. At one point, it contained over a hundred poems I had written, many of which are now published in Windows to the Soul. This version of the site was allowed to go offline in 1999.
Around 2002, SpaceCom Central was revived, this time hosted with Yahoo!'s free services. This new version of SpaceCom Central was also meant to be just a repository of papers and stories which I was writing. I updated it occasionally over the years with new papers and stories, but that's all it ever was.
In late 2005, I decided I wanted to study graphic design in college, and consequently decided I needed an online portfolio. I bought a small business account with Yahoo! and upgraded SpaceCom Central to its own domain. I then added a sub-site, which I called The Showcase since it was meant to be a showcase of all my work, which at the time was pitifully small. The Showcase was built using Dreamweaver, Flash, and Photoshop, and at the time I really had no idea how to put together a design for a proper Web site. I pulled out all the stops to throw in neat little tidbits of design everywhere, which unfortunately didn't do much for the cohesion of the site's look and feel. I actually got a job using The Showcase, although in hindsight I don't think I would have hired myself had I been the one conducting the interviews. They must have seen some potential in me that didn't come across on my site.
In 2007, after learning a lot more about design concepts and harmony, I revamped SpaceCom Central into a portfolio site. With a redesigned logo and examples of work I created for classes, my first real portfolio site was born. This version still exists at http://www.spacecomcentral.com.
Later in 2007, I revamped my portfolio site, buying the domain www.artisticimposter.com. Over the years I changed the design a couple of times, and finally arrived at the current version of Artistic Imposter Design.
Why Artistic Imposter?
I have a confession to make. I am not, nor have I ever been, a traditional artist. Give me a computer and I can create some pretty cool stuff, but if someone were to hand me a pencil or paintbrush the best I could do is draw them a picture worthy of a preschooler's fridge. Okay, so maybe I'm exaggerating a little. I have always enjoyed drawing, but mostly I drew house plans or maps of fictional places. My favorite drawing from my pre-computer days is a map I created showing the lands mentioned in The Chronicles of Narnia books.
When I first began college, I was there on a theatre scholarship. I had just turned 21, and quickly realized that the passion which fueled my acting in high school had burned away with the loss of my teenage years. The two years I spent in California between high school and college had changed me, and I no longer wanted the life of a thespian. I still enjoyed the unique rush of performing onstage, but unlike my classmates I had no desire to eat, sleep, and breathe theatre.
When I first started taking art and design classes, most of my classmates had far more experience than I did. Many of them had been studying and creating art for years, and my eighth grade art class was over a decade behind me. I had no concept of color or design theory; I just wanted to create. I knew their skills were far superior to mine and often felt I didn't really belong among them. I felt like an imposter, and Artistic Imposter was born.